DJ Trails, started producing events and Djing in South Florida in 1996. In late 1997, the legendary Bboy Speedy Legs asked him to be partners in Hip Hop Elements and they have been working as a team ever since.

Over the last 15 years, he has been blessed with the opportunity to work with some of the biggest artists in show business, such as: The Black Eyed Peas, Outkast, Snoop Dogg and Legendary Dj's like: Aftrika Bambaataa, Kool Herc, Jazzy Jay, Z Trip, Grandwizard Theodore, Qbert, DJ Scratch and many more. He has experience playing concerts, clubs, special events, dance competitions, private parties, corporate functions, trade shows etc. His music has been licensed and can be found on DVD's in international retail chains like Best Buy, Target & Walmart. Many of the events he produces and plays at have been featured in newspapers, magazines, television, radio and film. For bookings, contact us
For more info on DJ Trails, visit A1ADjs.com or see his fine art website at: Trails1.com
Currently working as a Doctor of Oriental Medicine and practicing Acupuncture in Coral Springs
@ www.IntegrativeMedicine.us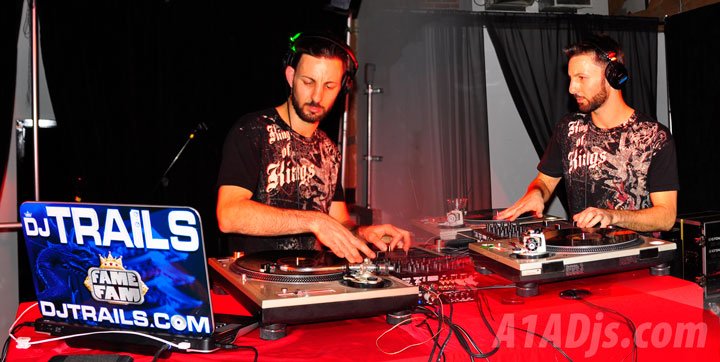 Through his events & DJ Battles, Mr. Fields has helped launch the careers of famous turntablists like:
DJ I-Emerge (Most consecutive winning Battle DJ of all time)
Dj Immortal (Director of Scratch Academy Miami)
Dj Trails painting and playing in Denver for 10 days at Terminal Kings Street Art Show sponsored by Denver University & Denver International Airport. Featuring Souls of Mischief, DJ Z-Trip & art of Sam Flores, David Choe & Highraff.
Dj Trails featured in a nationally televised commercial for the US Coast Guard
DJ Trails being honored with an award by P.A.T.H. for a Miami DJ History event
More photos & videos of Miami DJ Trails coming soon…
When he is not rocking the turntables and putting on events,
Jonathan runs a Search Engine Marketing Company.