Steve Satterwhite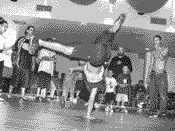 The 2003 B-Boy Masters Pro-Am
Details: Thursday, May 22, to Sunday, May 25. Call 954-340-2192.
Where: The Ramada Inn, 4041 Collins Ave, Miami Beach, FL


It's a sweltering poolside afternoon in Miami Beach at the Ramada Inn. The tiki bar with its dry, weathered, and sunburned wood speaks subtly of days gone by. Its hardened, discolored fissures, once witness to an ethnic and cultural evolution on South Beach, now give shelter from the heat to the embodiment of "old school" itself, thirtysomething Richard "Speedy Legs" Fernandez, as he conducts the last of his many negotiations with the hotel for the seventh annual B-Boy Masters Pro-Am. A sprawling four-day conference being held at various venues around the city, the Pro-Am is using the Ramada as a central meeting place for registrants. "Make sure you tell them it's 'b-boying,' not break dancing. The real term is b-boy/b-girl," he directs. The condensation from the plastic cup of his Diet Coke creates a puddle on the swollen bar countertop. An old-timer behind the bar puffs ardently at his cigar while the barmaid, a plump motherly type, makes jokes about the return of the b-boys to her tiki bar for the third year in a row.

Speedy Legs is a veteran of the local hip-hop scene. "I was the first b-boy in Hialeah," the Havana-born dancer states emphatically. Arriving from Cuba on the freedom flights at the tender age of six months, he has enjoyed a slow but steady rise in the hip-hop game since his early days in the Hoffman Gardens Housing Projects.

"I was always performing in the black clubs," remembers Speedy Legs, whose deliberate and hobbled walk tells a story of aching joints and decades of gravity-defying movement: "The 'Gong Shows' ... the Jet-Away Lounge on NW 36th Street, Big Daddy's 8600 Club on Biscayne Boulevard." Since co-founding Hip-Hop Elements in 1986, he has watched it grow from a small clothing line to a respected organization that creates events and mentors young DJs, MCs, and dancers. After this weekend, other Pro-Am conferences will be held throughout the rest of the year in far-flung places like Los Angeles, Hawaii, and Tokyo.

"I wanted it to stand for professional and amateur," explains Zulu Gremlin, an early member of Hip-Hop Elements who says he came up with the "Pro-Am" title from his San Francisco home. One of the better-known b-boys in the country, Gremlin was a featured performer in Jam on the Groove, a Broadway-style dance production that toured across the States in 1997. He has also made beats for Terror Squad, the Pharcyde, and Dilated Peoples. His rap group the Hidden Masters has a song on the soundtrack to the Muhammad Ali video game Knockout Kings 2002. Gremlin now directs his own theatrical dance company the Breakbeat Assassins, who will perform during the Pro-Am. He is scheduled to co-host the conference alongside his partner Speedy Legs and fellow dancer TRAILS, judge competitions, and teach a master class poolside at the Eden Roc Hotel (free for those who have paid the $65 registration fee).

"The [Pro-Am] is a work in progress," continues Gremlin. "It is geared to meet a lot of goals, like showcase new talent -- which brings up their dollar value -- and give correct terminology." Esteemed showcases like the Pro-Am attract talent scouts and give exposure to rising stars. A dancer by the name of Night Crawler was discovered at one event and found himself performing in a Spike Lee commercial. Others who have been spotted there or on Hip-Hop Elements' series of Pro-Am highlight videos have wound up as back-up dancers for Whitney Houston, Missy Elliott, and Nas. But it's all a matter of terms for those who make hip-hop their lifestyle. "Rappers have misrepresented us," Gremlin states disappointedly. "B-boy style -- they made it popular. Then they changed the terminology!"

Back in Miami local talent gears up for the event. "Pro-Am lets me relive my youth," exclaims Chillski, a Cuban-born dancer who specializes in the "electric boogie," an East Coast interpretation of the West Coast dance form known as "popping." Chillski says that while popping is more technical and less expressive, "[electric boogie is] faster, more charismatic, and robotic. More character-driven." He has also mastered the "Brooklyn uprock," a warlike dance with throw moves and violent allusions to gunshots. A typical uprock sequence might involve one dancer "shooting" the other with a sharp staccato movement, then proudly blowing out the gunsmoke.

At any given moment you can peep Chillski's steelo as "straight-up b-boy," which he describes as "color-coordinated clothes that are sharp, not sloppy. Sneakers clean!" The popping dynamo likes to "dress old-school" and "rock my Cazals." He's been to every Pro-Am since its inception. Earlier installments were more scattered, he says, with events being held anywhere from a Spec's record outlet to the 21st Street Recreation Center on South Beach. "It went from a little jam in a community center to bringing people from all over the world," he marvels.
---
It's Friday night inside the 21st Street Recreation Center, where Hip-Hop Elements puts on its biweekly Dolla Jams. B-boy crews from all over the city "make their presence known," taking over different corners of the room. They scope, observe, and experiment with new dance styles. They take ownership of their immediate surroundings by drawing imaginary boundaries where their gravity-defying dance moves can manifest. It is a Morse code of footwork and execution.
"Footwork tells where you're from," explains eighteen-year-old b-boy Snoopy. He motions to the dancers on the other side of the room by squinting his eyes. "They're from Broward," he notes. Without pausing the nail-biting that bobs his finger against his lower lip piercing in quick nervous motions, Snoopy breaks it down. "They're doing 'power': windmills, headspins. You can practice that," he says, unimpressed.
In contrast, the young, wiry dancer says his crew does "flavor," which he mysteriously describes as "crash and burn." "Flavor is how you show yourself to the crowd, all improvised," he says. This will be Snoopy's first Pro-Am. His friend RJ will be going for the third time. "I want to represent Miami and show off skills," the bright-eyed nineteen-year-old says through a mouth full of gold teeth.
Scanning the room, one can decipher the different styles and isolated movements. Some people are doing "flares" -- standing upside down, spinning on the hands with palms face down to create a rotating "flared" illusion with the legs. Flares can also be executed on the back, with the legs rotating in the air like flower petals.
Suddenly an overzealous dancer spins out of control, hitting the DJ table. A very loud "YO!" jumps out of DJ Magic's mouth as onlookers laugh. "Battle! Battle!" is chanted throughout the room and a semicircle forms in front of the DJ table. Snoopy takes off his shirt for battle. Another dancer, Kiddo, tucks his 'fro into a tight cap for better aerodynamics. An interesting kid with unusually tight-fitting clothes also approaches with confidence. His slim jeans, spiked belt, and matching bracelet scream Depeche Mode more than Mos Def. But he also has extraordinary upper-body strength, judging from how he holds an extra-long "freeze" pose by propping his entire body up in a fetal-like position using only his arms and elbows.
The kid has skillz. His name is David and he goes by the name Mex-One. This will be his fourth Pro-Am. "2000 was my first Pro-Am and I loved it," remembers Mex-One. "It introduced me to b-boying. It's the biggest competition in Florida."
miaminewtimes.com | originally published: May 22, 2003
- - - - - - - - - - - - - - - - - - - - - - - - - -
| | |
| --- | --- |
| | Printer friendly version of this story |
| | Email this story to a friend |
| | Email Tiffany Madera |
| | More stories by Tiffany Madera |
| | Send a letter to the editor |