Miami Light Project
PRESENTS
Scratch & Burn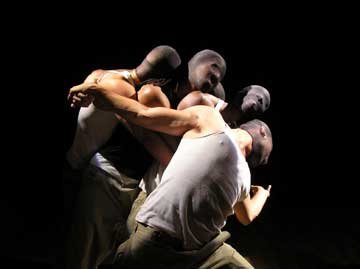 Battles and wars rage in boardrooms, on street, corners, in deserts, in jungles and now on stage in Miami Light Project's newest commission, Scratch & Burn. Written and directed by Teo Castellanos, with choreography by D-Projects company members and Ricardo "Speedy Legs" Fernandez and original music by Brimstone127, Scratch & Burn mixes elements of ancient Zulu, Maori and Butoh rituals and movements with Hip Hop and urban street combat to create a powerful dance theater work about our primal urge to battle for supremacy and domination-begging the question "When is war not the answer?"
Thursday - Saturday, May 12, 13*, 14, 2005 8:00pm
Sunday, May 15**, 2005 2:00pm
*May 13 will feature a post show artist Q&A
**May 15 will feature a 1pm pre-show Hip Hop Theater talk with Teo Castellanos,
Anita "Rokafella" Garcia, Will Power and Ron "Zen One" Wood
The Byron Carlyle Theater
500 71 Street, Miami Beach, FL 33141
Tickets are $20
BUY SCRATCH & BURN TICKETS HERE!!
or call boxofficetickets.com: 1.800.494.TIXS
Tickets are also available at the Byron Carlyle and Jackie Gleason Box Offices with no service charges