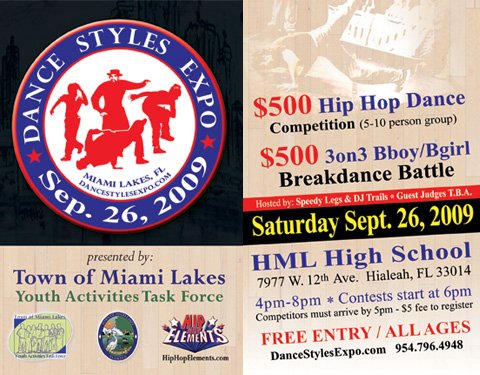 $500 Cash 3on3 Bboy/Bgirl Breakdance Battle
DJ will select music. No requests. Judged on Solos & Routines
$500 Cash Hip Hop Dance Competition
5-10 person group performing a choreographed routine to their pre-mixed music
Must be on CD as 1 track. Routines should be 6 minutes max.

Saturday September 26, 2009
Hialeah Miami Lakes High School
7977 W. 12th Ave. Hialeah, FL 33014

FREE ENTRY - ALL AGES EVENT

4pm-8pm - Competition will begin promptly at 6pm
Competitors must arrive by 5pm. $5 registration fee for competition
Hosted by: Bboy Speedy Legs & DJ Trails - Guest Judges T.B.A.

Exhibitions & Special Performances T.B.A.